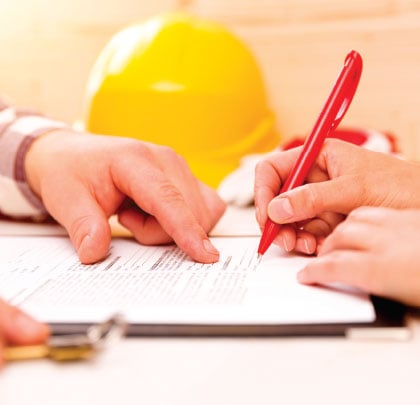 When entering any kind of project, many details, steps and parties are involved. From compensation specifics, materials needed, timeline and much more, having as much detail and information written and agreed upon before the project begins is key. There are many benefits to having an established contract prior to the start of a new job. They are a crucial part of any job, no matter what size, because it binds each party to the agreed upon terms for the duration of the project.
What's in a Contract?
There are many different types of contracts in the construction industry, which include many different specifications, depending on the project. Construction contracts clearly define both parties obligations, expectations and risks, they provide a road map for many of the questions often asked such as payment terms, completion dates, insurance requirements and scope of work. The contract should be made up of the following sections:
Project overview and description
Contract Price
Payment terms
Construction schedule
Construction conditions and responsibilities
How contracts prevent problems down the road
The contract should be written up and agreed upon before any work begins. This way, no matter what the circumstances are, there is a plan already in place. Some common issues that contracts should also address are:
Time constraints: Having an agreed upon plan of action in case there is a disruption in the timeline ensures that work will still be completed in a timely manner. This also helps to keep the project flowing smoothly.
Weather damage: When unforeseen circumstances arise, like a severe storm or flooding, have a plan for handling work delays and potential damage to the site. ACI always ensures builders risk insurance is held during all projects from start to finish. Builders risk insurance protects insurable interest in materials, fixtures, and/or equipment during the construction or renovation of your project. Some policies also cover theft, vandalism and damage to construction materials, fencing, scaffolding and landscaping.
Unexpected work conditions: Sometimes it's impossible to foresee problems that can occur out of the blue. Under most circumstances, the contractor assumes responsibility for this and figures out a solution, even if its at a cost to the client. Have a plan for which party will take on the responsibility for addressing and handling the problem.
American Institute of Architects (AIA) Standards
The American Institute of Architects (AIA) is a standard in the industry. AIA and its members are committed to the highest ethical standards and full compliance with all laws and regulations, including federal and state antitrust laws. Here at ACI, we utilize standard AIA contracts. We follow their guidelines and documentation to ensure we are providing the most comprehensive information, legal protection and fair terms to our clients. We also use AIA Sub-contractor agreements as well. This ties our Sub-contractors into the same terms and conditions we are subject too.
We stand by our word
Having a well written, thorough contract in place prior to the start of a construction project is critical. It ensures all parties are on the same page and know who is responsible for what. It's the assurance that you need to know that we are going to follow through and stand by what we promised you from the beginning. To learn more about contracts and how we can help you achieve your goals, contact a specialist at Associated Contracts Inc. today!
---