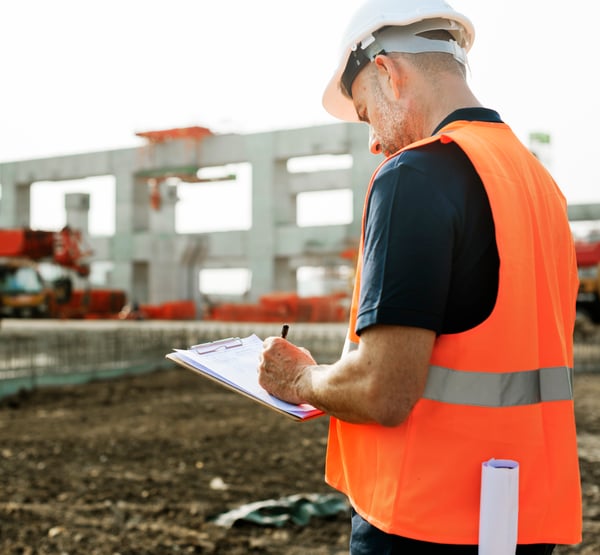 Every industry carries a risk of workplace accidents, but construction sites can present dangers that have the potential to lead to serious injury, and in worst case scenarios even death. To help increase the awareness of some of the high-risk situations you might encounter, here are a few common construction site hazards and some suggestions on how to avoid them.
Falls from working at height
According to the U.S. Bureau of Labor Statistics, fatalities from work-related falls rose a startling 26 percent from 2011 until 2016. Most of these falls occurred within the construction industry. When proper fall precautions aren't put into place, workers are left vulnerable.
Site protections such as swing gates and railings are a must while work is happening at certain heights. Make sure you are hooked to an anchor point and are wearing fall protection gear as an extra precaution. If there is a chance you might be working at heights, your employer should also ensure that you undergo training for the equipment, anchoring, and surfaces you will be working on.
Being struck by a moving object
Construction sites are full of equipment that is suspended from above as well as vehicles that have limited vision and are moving on uneven terrain. When on a job site, you are surrounded by things that could present a high risk of bodily harm if an impact is made, so you must be constantly cognizant of the area around you.
Wear personal protection equipment (PPE) that covers your face, eyes, and head and stands out, like a high visibility jacket. Always be alert and aware of your surroundings and avoid positioning yourself in the path of moving or suspended objects. You can't control whether or not your coworker is paying attention when operating large equipment, but you can make sure you aren't in their path if they happen to get distracted and don't see you.
Slips and trips
Moving around a construction space can be tricky, especially when materials, spills, and uneven terrains can significantly impair mobility. Sometimes cords are left around, wet weather can cause slippery floors, and before you know it your access routes are hazardous.
To avoid these slips and trips, make an effort to always keep your workspace decluttered. Throw garbage in assigned waste areas, make sure cords and cable are stored or at high levels during use. Designate walkways when surfaces are uneven, and always wear shoes with a solid grip.
Electrical exposure
From blocked breakers to misused extension cords, the risk of electrocution on a construction site is higher than most people think. Extension cords should be used sparingly and temporarily, and "daisy-chaining" cords (using multiple cords for a single device) is a major no-no.
In addition to the tripping hazard discussed above, inappropriate use of extension cords can draw too much electricity from circuits, which can cause overheated wires and potentially start a fire. Take care of your cords, wear PPE, and when in doubt, hold off on handling anything electrical until someone qualified to do so is able to come in and have a look.
To learn more about how to protect yourself and your work environment from hazards and injuries on a construction site, contact an expert at ACI today.
---