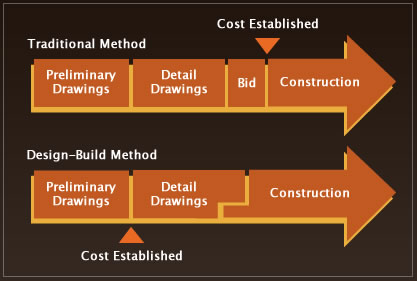 When diving into the planning process for a new building project, owners need to made a range of strategic and tactical choices. One of the most critical of these decisions early on is the method of project approach and delivery. The phases of bidding and selecting contractors for design and construction of any project can be complicated, overwhelming endeavors for owners. The good news is working with a contractor to Design-Build will significantly simplify and streamline the steps and processes that go into project management and completion.
So what exactly is Design-Build? In contrast with traditional building, Design-Build allows owners to work with design and construction together as a unified team, using a single contractor for everything from drawing details to building execution on your project. This method of performance and delivery allows you as an owner to have the most unified control over every phase of your new building from inception to completion.
Traditional versus Design-Build
When using the traditional approach of bidding, cost isn't established until after a bidding process, which occurs before the construction phase of a project commences. With Design-Build, cost is determined just after preliminary drawings, which cuts out the bidding process completely and allows all project expectations and budgets to be ironed out at the beginning. The one-stop-shop approach of Design-Build increases cost control and assures owners that one reliable source will be responsible for every step. This method helps owners establish a more reliable schedule and greater control over your project from beginning to end.
With traditional project delivery, miscommunication can often cause snags throughout the life of a project. Separate contracts for design and construction are required, leading to gaps in responsibilities, or the back and forth of the blame game if something is missed or a mistake is made. These disagreements can result in delays, budget overages, and, in extreme cases, lead to legal issues. Owners can avoid all of these hang-ups with Design-Build because the entire team of designers and builders are working together as a cohesive unit from the conception of a project.
Since the architects and engineers are working together from the beginning with Design-Build, the stage is also set for more innovative solutions and creative designs. When the element of competition is removed from the playing field, a more collaborative approach can be taken in all aspects of task completion.
Have you considered Design-Build for your next project? Associated Contractors believes in balancing excellent design with outstanding value and we can control quality, completion dates, and costs to meet your needs. Contact Associated Contractors today to learn more about the process and what we can do as your designated Design-Builder.