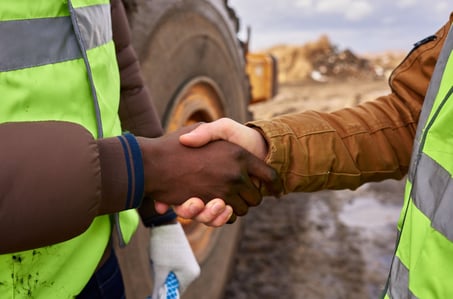 When beginning a new construction project, you will find that many people are required to get the job done. Choosing your building team for an upcoming project is a big deal, and it's one of the first things that should to be on your to-do list. This may seem like common sense, but often is overlooked.
This process begins when you choose your contractor. If this is your first construction project, you may not have a lot of experience on what to look for. Learn more about how to choose your team, who should be involved, what to look for and what your team will expect from you:
How to choose a contractor.
Choosing a contractor is the first big step for the construction project. A contractor should be someone you can trust, communicate well with, is reputable and has a history of completed jobs. Make sure to do thorough research when searching for a contractor. Look online at their website to find information about their recent and past jobs to see if they have experience with the type of building you are planning to build or remodel. Interview potential contractors and ask about their processes, quality control, credit history, financial stability, and any litigation history. Speaking to recent customers may be a good way to receive a first-hand opinion. It is also important to develop confidence and trust with the person you will be working with at the construction company before you finalize any decision.
How to choose an architect/engineer.
Choosing an architect will be a similar process to choosing a contractor. In addition to your preliminary research, you want to find someone who you are able to communicate well with and that will listen to your requirements. Your contractor may already have an architect that works for him or with him quite frequently. Before selecting your architect, compile a list of important considerations in YOUR order of priority. Below is a sample priority list for a successful business owner wanting to build a new office:
Functionality
Aesthetics
Compliance with regulations
Design cost
Completion date
Location
Building energy cost
Building maintenance cost
Building cost
Once you compile your list, look for an architect who can help you reach your goals. A rule of thumb when choosing an architect is find someone who has created projects that excite you but also understands building costs.
What your building team expects from you.
As the owner of the construction project, the team will be looking to you to answer their questions and provide a clear picture of what you envision. Having a solid plan and conveying your priorities will help control cost and keep the team moving forward. They look for you or your designee to attend job meetings, provide input on material and color options and quickly bring any changes to their attention so they can be reviewed and incorporated into the project and schedule. With the amount of factors that come into play in any construction project, perfection is rare. Your team will expect you to understand and accept reasonable standards of performance. You should be prepared to accept the risk of unpredictable conditions. Lastly, as the owner, it should your highest priority to assume all responsibility for your actions that can affect the job. This shows your personal integrity and respect for your team.
We stand by our word.
When constructing your building team, compile a group of reputable professionals who have the training and experience to meet your needs. At ACI, we have a solid team of Design/Build professionals that we work with regularly. We have completed hundreds of projects from start to finish. Our team is compiled of individuals and companies who are adaptable and work well with each other. We truly believe that team spirit is needed to build the best project for the least cost. To learn more about our team and how we can help you, contact a someone Associated Contracts Inc. today!
Be sure to check out other topics in this series:
Expansion Checklist Part 1: Preconstruction Considerations
Expansion Checklist Part 2: Bidding Process vs. Design Build
Expansion Checklist Part 3: Considerations When Planning your Budget for your Project
---